Journey Days 1 & 2
Our Journey
I have been asked by several people to give a brief account of the Two Pennies Journey to Ghana this spring.  I have decided to do this in a series of four blogs that will each cover two days of our journey.  I hope this gives you an idea of how we progressed through our trip and uncovered the need there.
Day 1
I will skip the specifics of our trip from home to the airport and the layover in Washington and fast forward 19 hours to our arrival in Accra, Ghana on Sunday, March 25th.  We were greeted at the airport by both Uncle Tetteh and Aboagye and taken by car to Mr. Kofie's house in Accra.  Although we were all tired from the flight, we were anxious to get out and "experience" busy Accra.
We spent a couple hours on the streets talking with people, taking pictures and buying a phone that we could use immediately and on subsequent visits.  We returned to the house to enjoy a meal of stew and rice with chicken prepared by Moses Kofie's Aunt Grace. For those of you who have never experienced the pleasures of Ghanian food, let me try and relate the experience.  There is a pepper they use (quite liberally) that is unlike anything I've ever tasted.  It packs a punch and immediately overpowers your sinuses.  This pepper is the base of their "stew", and other dishes they serve.  After dinner we discussed our plans for the next day and crashed for the night.
Day 2
The next day we were scheduled to meet with Nii Armah Takie, the Ga West Municipal Chief Executive.  He is a presidential appointee and we were conducting an interview about the possibility of providing a library for his hometown of Myera.  The interview lasted about thirty minutes.  He went to great lengths to describe  his desire to expand opportunity for his people.  We were then taken by car to the future site of the library.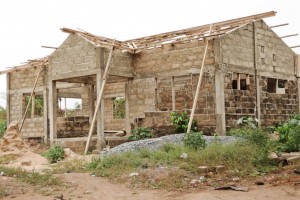 The library (pictured left) sits on the main road that leads through the village of Myera.  It is a government run project that is side by side with a future IT (internet and Technology) building.  As far as libraries go, it is a nice building, but very humble.  The dimensions are 20 feet wide by 50 feet long.  For the people of this village and the surrounding community, this is an extraordinary opportunity.
I couldn't help but compare it to the library I live near – the Gail Borden Library in Elgin, IL.  Just the nonfiction category in the children books would fill this building to overflowing!  It is exciting to see it take shape and listen to the locals talk about the change it will make in their community.  Right now the closest library is 20 kilometers away.  As most people walk wherever they go, this isn't much of a possibility.
The building is located right next to a school teeming with students where we had the opportunity to talk to the children and the teachers.  It became even more apparent how the library would be a game-changer for the community.  Most classrooms were packed with 50 or more students.  They were seated three to a desk and most had no books or writing utensils.  They had to watch the teacher, and visualize what they would do for practice.
I had the chance to do some practice with the students.  Ironically, we had been covering the same material in my classroom back in Illinois, so it was exciting to teach the same lesson two times within four days, yet six thousand miles apart.
We had to move on.  Leaving Myera, we were driven to Bawjiase, where the Countryside Orphanage is located.  Upon arrival, we were met my Mr. Osei, the director and ushered immediately into a meeting with Mr. Otu, the poultry specialist.  They took great lengths to explain the disease that had just ravaged the chickens purchased by the First Baptist Church.  They showed us veterinarian records, and charts to try and explain that they had taken all possible precautions to avoid disease.  Unfortunately, the chickens had been infected by an aggressive strain of Gumboro.  Only 128 of the original 1,000 had survived the plague.
It was at this point that they tearfully explained to us that not only had they suffered the loss of 128 chickens in 4 days, but they had also been the victims of thieves, who had stolen 12 steer only days before.  They were reeling from this double blow and were explaining that they had been calling out to God as to why they had to suffer through this.  They were crushed.  And then Captain Joe, who is almost blind, turned his head in our direction and said something that I will carry with me for years to come.
I have been calling out to God, 'Where are you? Help us!'.
He paused, stretched out his hands toward us and said,
And here you are.
It is an amazing thing to be referred to as an answer to prayer.  We had only just arrived and already were being a blessing.
Humbling to say the least.